Upcoming Events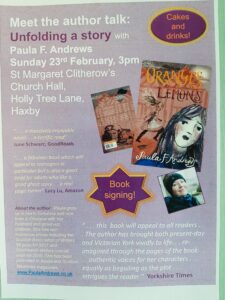 I will be giving a talk about Oranges and Lemons on:
Sunday 23rd February at 3pm.
The venue is St Margaret Clitherow's church in Haxby, York. (In the church hall).
Come along to hear about how the book was conceived and developed. There will be tea and coffee, soft drinks and cake!
And maybe even a game or quiz!
About the venue:
St Margaret Clitherow's is a beautiful church and if you come along, be sure to have a look at the incredible stained glass. There are two very special stained glass features: one of St Margaret Clitherow, with Sts Wilfred and Hilda on either side of her, at the back of the church and the other, behind the altar, at the front of the church, is the Canon John Mortell Memorial window.
The full postal  address is:
St Margaret Clitherow's RC Church
Holly Tree Lane,
Haby,
York.
YO32 3YJ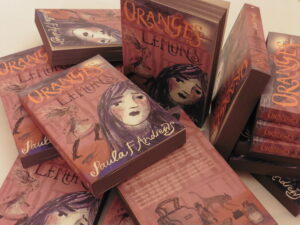 I will be doing a book signing in WHS, Coney Street, York on:
Saturday 18th April
from 11am till 1pm.
Come along and say hello! I'll be delighted to see you and chat about Oranges and Lemons.
Store Address:
39 - 41 Coney Street, York YO1 9QL
Previous Events
Thanks to everyone who came along, I hope you enjoyed it!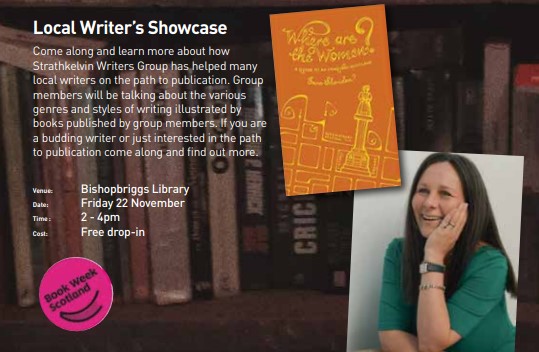 Friday 22nd November 2019, Local Authors' Showcase
Part of Scottish Book Trust's "Book Week Scotland"
I'll be appearing at this event organised by Bishopbriggs Library and Strathkelvin Writers' Group and will be reading an extract from Oranges and Lemons at 3.45pm.
The event will take place from 12pm till 4.30/5pm in Bishopbriggs Library, 170 Kirkintilloch Road, Bishopbriggs, Glasgow G64 2LX
I'd be delighted to see you there!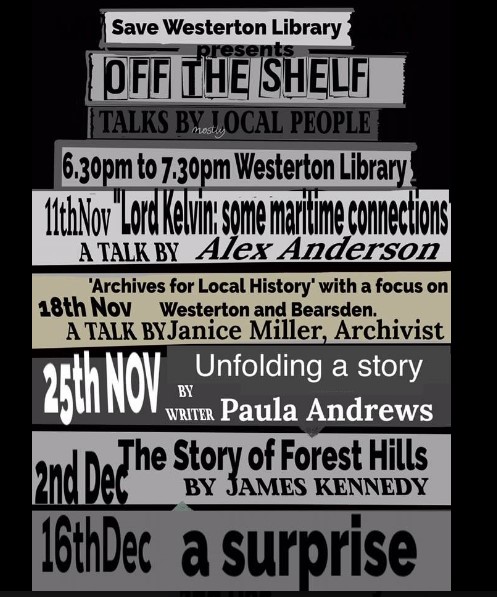 Your event?
Please get in touch if you would like me to come along to a bookshop, library or school near you.