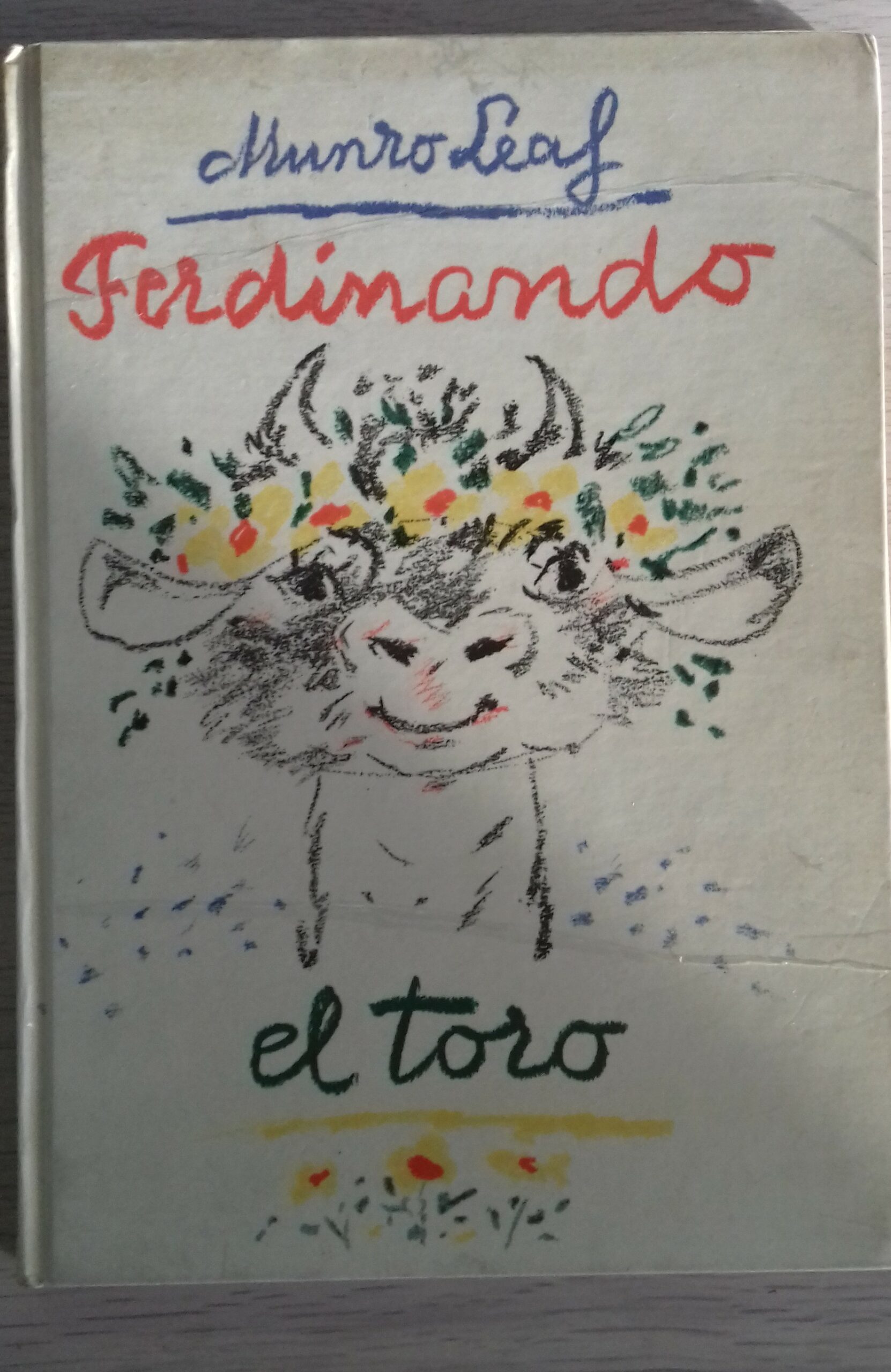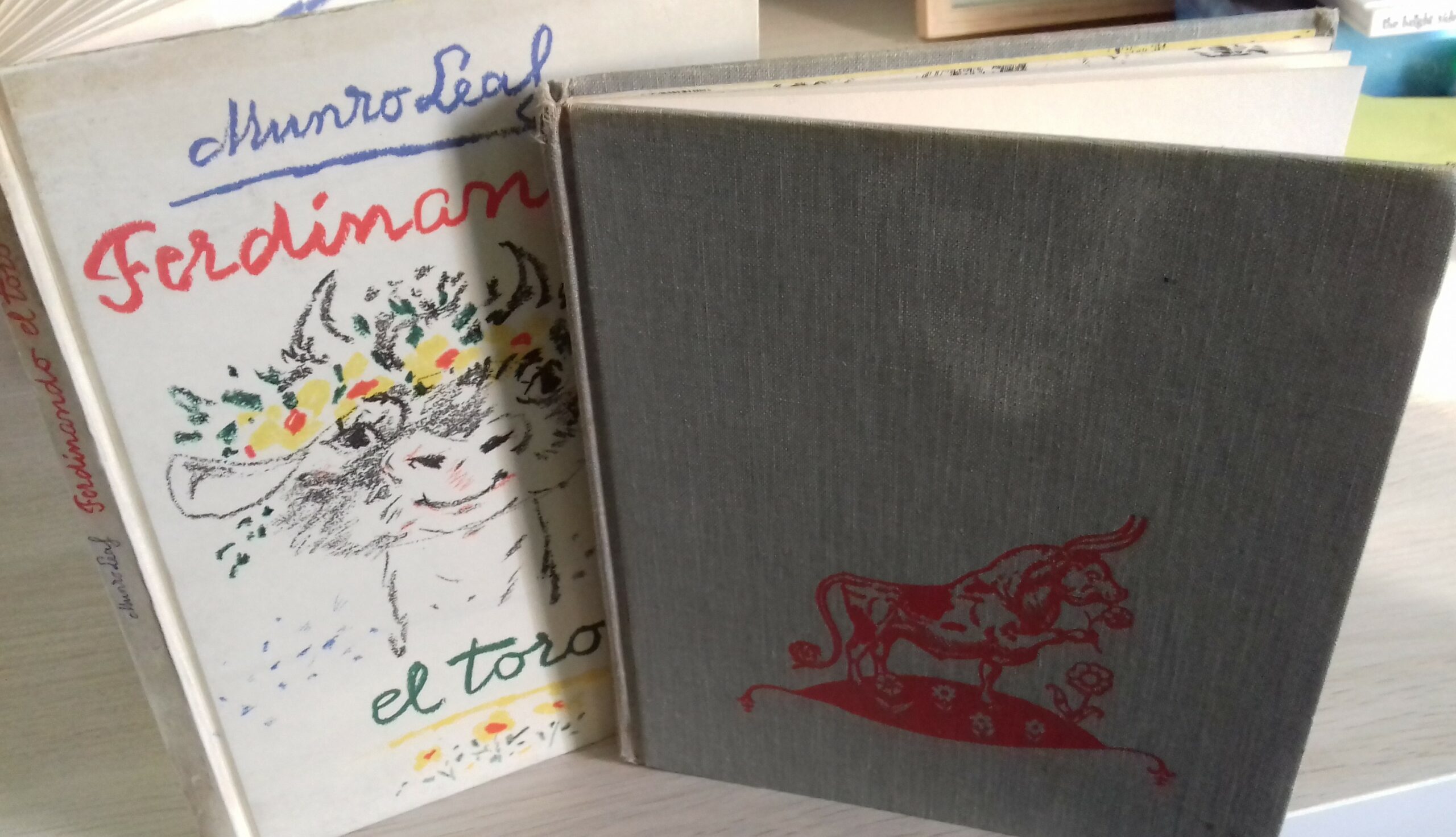 Now that my book has been published, I must accelerate my efforts in marketing and promotion and it feels as though there is so much more to do than I can ever achieve! So, I find myself deep in procrastination mode! I will get back to promoting my book, honest. . . Anyway, I thought I'd have a little interlude by blogging about childhood stories that brought me tremendous joy.
While on holiday in Valencia this summer, I had a delightful surprise. I can't remember specifically what caught my eye, but, passing the doorway of an antiquarian bookshop down a narrow street in the old and charming Carmen district of the city, I doubled back and decided to take a look inside. After greeting the owner sitting at one end of the shop, I started to browse the shelves.
My heart began to race when I saw a colourful book cover with a childlike drawing of a smiley-faced bullock wearing red and yellow flowers between his little horns! Above and below the face, in looped wax-crayon handwriting, were the words: 'Ferdinando el Toro'. Surely not, I thought. Could this be a version of one of my favourite childhood story books? Above the title, also in the tell-tale fuzzy strokes of crayon, I read, Munro Leaf, the author's name. I began to laugh and attempted to tell the owner in poor Spanish (my Valencian is non-existent) that, there on his shelf, was one of my favourite childhood stories and I'd love to buy it. How much would it cost? He charged me two euros! I think I gave him four. I'd happily have paid ten or more!
This particular version, written in Castilian, was published in 1978 and the internal drawings, also in wax crayon or perhaps, chalk pastels, were produced in Berlin in 1966 by Werner Klemke. It was translated from Leaf's English by Jacqueline Ruzaga. (Munro Leaf, from Maryland, was an American high school teacher of English. He later worked in publishing.) The illustrator of the original version was Robert Lawson, a friend of Leaf.
Back at our holiday apartment, I pored over the book. It was a little grubby but the story was exactly the same as in my copy at home, which had been sent to me in around 1972 by my Aunty Shirley, who lived in Hawaii. It had had a paper cover at one time but that had somehow got torn and lost over the years. Nevertheless, with its durable, grey fabric cover, bearing a picture of Ferdinand in red ink on the front, it has stood the test of the passing decades.
The story was first published in September 1936 as an innocent tale intended to entertain little ones. It sold well but it wasn't long before controversy over its hidden meanings began. It was banned in Spain, as the adorable Ferdinand was said to be a metaphor for pacifism, and, at a time of increasingly unstable international relations, Leaf was accused of anti-war sentiment. In Germany, Hitler had it burned as "degenerate propaganda" as Ferdinand's femininity in preferring flowers to fury was seen as insupportable of Aryan masculinity. But later, following the Second World War, it was distributed throughout Germany as a peace symbol and it was allowed back into Spain in 1975. For me though, its message about difference and acceptance is the one I most love. Ferdinand, whose mother worries about him because he won't run and frolic and butt like the other little bulls, finds himself in a situation he neither understands nor complies with. I think I empathised with Ferdinand as a five-year-old, and even now, I'd be happy to do as Ferdinand does and, no matter what others think, sit ". . . just quietly and smell the flowers."
Not right at this minute, though. For now, it's back to some real work!